Plant Sizes & Ordering
Ecohab Wildflowers is a wholesale nursery offering plug plants and seed.  We prefer to speak directly to our clients to determine the best plants for your project.
Please get in contact by email or telephone to request a current plant availability list and discuss your project requirements.
Plants are delivered in long-life trays (£6 deposit per tray) by local delivery or collection.  Nursery visits are welcome and encouraged by appointment only.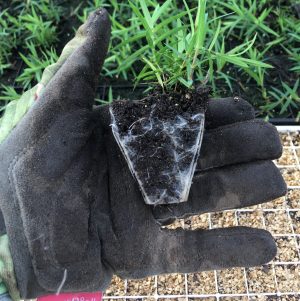 Jumbo Plugs – 126 Tray
Tray size is 600 x 400 x 50mm

Plug size is 42mm x 42mm x 50mm
Plug volume is 55cc (cm3)
This plug size is good for most wildflower species and applications.  They are recommended where there is competition from existing vegetation and can be planted at any time of year as long as irrigation is provided during prolonged dry periods.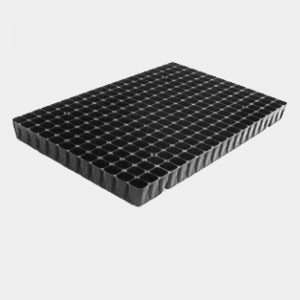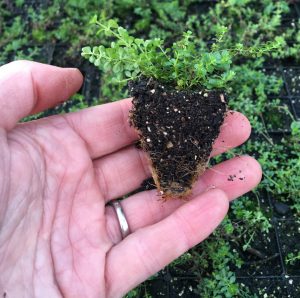 Micro Plugs – 240 Tray
Tray size is 600 x 400 x 50mm
Plug size is 32 x 32 x 50 mm
Plug volume is 30cc (cm3)
This plug size and the 345 tray below are suitable for larger planting areas or projects with smaller budgets.  Due to their smaller size they will benefit from control of existing coarse grasses and establish better when planted in early spring.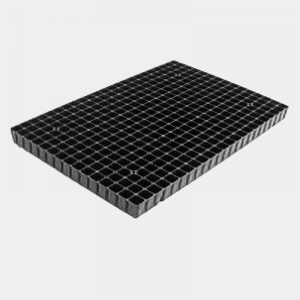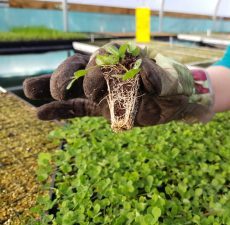 Micro Plugs – 345 Tray
 Tray size is 600 x 400 x 43mm
Plug size is 25x25mm x 43mm deep
Plug volume is 17cc (cm3)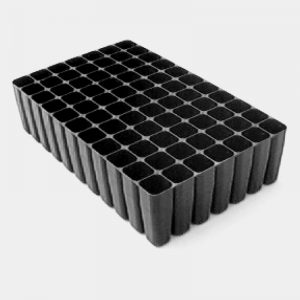 Root Trainer – 77 tray
350 x 215 x 87mm
Plug size is 30 x 30 x 60mm
Plug volume is 60cc (cm3)
For long rooted plants such as sedges, grasses, trees and shrubs.  Root trainers are particularly good in wetland environments where deep established roots are important for anchoring plants and protecting against soil erosion.